Sector Financing
WASH SDG Costing Tool
The WASH SDG Costing Tool can be used by countries that would like to calculate the investments needed to fulfill the SDG targets as well as the financing gap. The Tool comprises a spreadsheet, accompanied by easy-to-use guidelines available for download in PDF.


Detailed description of Tool
Created by UNICEF in 2017 and updated in 2020, this spreadsheet-based tool is useful to prepare the financial analysis for the Country Overview. Countries which have not yet done their own costing of the SDG targets (6.1 and 6.2) can use the SDG Costing Tool to prepare their estimates.
The main difference between the updated tool and the previous version is that now countries have the option of selecting the baseline year - i.e. after 2015. This allows more realistic annual values to be estimated to reach the national targets.
Access the guidance for the tool here:
 - PDF, 965KB: English | French | Spanish.
The Sanitation and Water for All (SWA) Secretariat, working with UNICEF provides direct support to countries that may require additional assistance to work with the tool.
Access the updated SDG Costing tool:
Click the "Download file" button below to download the English language version of the Tool spreadsheet (xlsm file - 7.5MB)
- French language spreadsheet | Spanish language spreadsheet 
Download File
Reviews
There are no reviews yet.
Be the first to review "WASH SDG Costing Tool "
Add a review
Implementation reports
There are no implementation reports yet.
Add an implementation report
Other tools that could interest you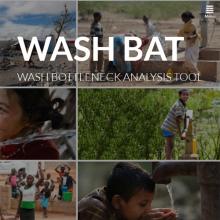 WASH Bottleneck Analysis Tool (WASH BAT)
Year of publication:
2011
WASH BAT has been designed as a sector tool for use by governments and development partners for WASH sector strengthening. It enables a systematic identification of factors (or "bottlenecks") that prevent achievement of sustainable service delivery within national or subnational WASH targets and helps stakeholders to define activities aimed at removing the root causes of these bottlenecks.


Read more
Briefing Note on budget tracking approaches in the WASH sector: methods, applicability and examples
Year of publication:
2012
In this note, budget tracking approaches and methods, and its applicability within the WASH sector are discussed, to offer insight into how and whether it can be applied within the Dutch Water Alliance's (DWA) programme. These may be relevant to other WASH Alliances or stakeholders.

Read more