Sector Financing
WASH SDG Costing Tool
The WASH SDG Costing Tool can be used by countries that would like to calculate the investments needed to fulfill the SDG targets as well as the financing gap.
The Tool comprises a spreadsheet, accompanied by easy-to-use guidelines available for download in PDF.

Detailed description of Tool
Created by UNICEF in 2017 and updated in 2020, this tool is useful to prepare the financial analysis for the Country Overview.
Countries which have not yet done their own costing of the SDG targets (6.1 and 6.2) can use the SDG Costing Tool to prepare their estimates. The Sanitation and Water for All (SWA) Secretariat, working with UNICEF provides direct support to countries that may require additional assistance to work with the tool. SWA has also created a brief set of Guidelines available in English, French, Spanish and Portuguese.
The updated tool is in the process of being translated. Click here to access the updated SDG Costing tool (Spreadsheet - 2020 version) 
You may access the 2017 tool here:
 - Download the tool (spreadsheet - xlsx file, 7.7MB): English |  French |  Spanish |  Portuguese
Download the English-language Guidelines by clicking the "Download PDF" button below.
Download PDF
Reviews
There are no reviews yet.
Be the first to review "WASH SDG Costing Tool "
Add a review
Implementation reports
There are no implementation reports yet.
Add an implementation report
Other tools in the same Building Block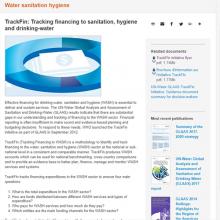 TrackFin: Tracking financing to sanitation, hygiene and drinking-water
Year of publication:
2012
TrackFin (Tracking Financing to WASH) is a methodology to identify and track financing to the WASH sector at the national or sub-national level in a consistent and comparable manner. The tool produces WASH accounts which can be used by governments for national benchmarking, cross-country comparisons and to provide an evidence base to better plan, finance, manage and monitor WASH services and systems.


Read more
Planning Monitoring and Review
Using Public Expenditure Tracking Surveys to Monitor Projects and Small-Scale Programs : A Guidebook
Year of publication:
2010
The goal of this guidebook is to serve as a starting point for civil society organizations, as well as Bank teams interested in conducting Public Expenditure Tracking Surveys, both on a small and larger scale. It is designed to lead a research team from idea inception to results dissemination, while emphasizing the importance of utilizing evidence to influence policy, regardless of whether it is on a macro or micro-level.


Read more