Sector Policy/Strategy
Risk Assessments for WASH
This tool and its proposed methodology set out an approach for conducting risk assessments for the WASH sector covering a wide range of hazard groups affecting the sector, as well as climate related risks in more detail. The tool is a resource for the WASH sector as a whole. While it focuses primarily on rural WASH services encompassing small-scale and community systems, the approach can be applied to both rural and urban settings.
Detailed description of Tool
This Tool and its accompanying Guidance Note is part of the Strategic Framework for WASH Climate Resilient Development, produced under a collaboration between the Global Water Partnership (GWP) and UNICEF.
This Tool and its Guidance Note can be used either in support of a wider multi-sector analysis, or to produce a standalone assessment for the WASH sector. The risk assessments for the WASH sector comprise two parts:
- The first part is a high-level assessment for risks across all types of hazards.
- The second part is a detailed assessment for climate-specific risks
The Guidance Note helps the tool users to assess hazard, exposure, vulnerability and capacity and bring these together to provide an overall scoring of risks. The following risk formula is used:
Risk = Hazard x Exposure x Vulnerability
Capacity is not used in the equation, but assessed separately to help prioritise risks for identifying resilient options.
The target audience is the same as the Strategic Framework. It includes government planners, decision-makers and practitioners responsible for WASH services provision at national, sub-national and local levels, and their associated WASH development partners. The Guidance Note is primarily aimed at the national level; however, the approach is flexible enough to use at sub-national levels if required. (Click the download PDF button to see the guidance note)
Download File
Reviews
There are no reviews yet.
Be the first to review "Risk Assessments for WASH "
Add a review
Implementation reports
There are no implementation reports yet.
Add an implementation report
Other tools that could interest you
Water Point Data Exchange Standard
Year of publication:
2018
This tool provides a global standard for collecting and sharing data on water points.


Read more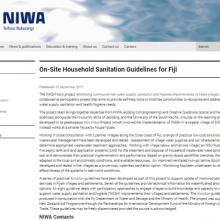 KoroSan: On-site Household Sanitation Guidelines for Fiji
Year of publication:
2017
Technical guidelines for sustainable on-site sanitation in villages, settlements, small towns and periurban areas. Developed and tested in Fijian villages, but applicable to other non-atoll tropical islands.


Read more