Sector Financing
Financing for Water and Sanitation: a Primer for Practitioners and Students in Developing Countries
This Primer offers a non-technical introduction to financing for water and sanitation in developing countries.


Detailed description of Tool
Published in 2011 by the EU Water Initiatvie (EUWI) Finance Working Group, the report "Water and Sanitation: a Primer for Practitioners and Students in Developing Countries" aims to offer general guidance relevant to financing all major parts of the "water sector" and sanitation. This includes key parts of governance, resource management, flood control, quality and pollution control and ecological services, as well as the familiar water services such as for households, farmers, hydropower producers, industries, etc.
Obviously, these various functions and services have distinctive features relevant to their financing, which cannot be properly dealt with in a report of this length and generality. Although the Primer is biased towards the most familiar realm of household water supply and sanitation, the text includes examples that reflect the greater breadth of this topic.
Target readers for the Primer are practitioners in developing countries – politicians, officials, professionals, private business people, members of civil society organisations and laypersons – involved in different ways in providing the infrastructure and services for water and sanitation. It is also aimed at students needing a compact introduction to this topic.
A Glossary of frequently used terms is included as Annex A and list of useful websites and written material is given in Annex B.
 
Download PDF
Reviews
There are no reviews yet.
Be the first to review "Financing for Water and Sanitation: a Primer for Practitioners and Students in Developing Countries "
Add a review
Implementation reports
There are no implementation reports yet.
Add an implementation report
Other tools in the same Building Block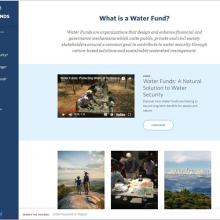 Waterfunds Toolbox
Year of publication:
2018
Water Funds are organizations that design and enhance financial and governance mechanisms which unite public, private and civil society stakeholders around a common goal to contribute to water security through nature-based solutions and sustainable watershed management. The Waterfunds Toolbox provides access to state-of-the-art knowledge on how to scope, design, and operate water funds. It was developed by Water Funds experts to help leaders succeed in developing Water Funds.


Read more
Choosing Public Expenditure Analytical Tools for Use in the WASH Sector
Year of publication:
2017
This Guideline provides an introduction to the most relevant expenditure analysis tools for the WASH sector – Public Expenditure Reviews, Public Expenditure Tracking Surveys, TrackFin WASH Accounts and Budget briefs.

Read more