Crosscutting Areas
Defining Water Poverty and Evaluating Existing Information and Approaches to Reduce Water Poverty
This study provides practical insights and recommendations to water companies as well as for consumer bodies, regulators, policymakers, and the water industry more widely, aiming to enable the industry to take positive steps to address the challenge of water poverty. Chapter 6 in particular, "Approach Toolkit for Alleviating Poverty" while focusing on the UK water sector, could be useful in any part of the world.

Detailed description of Tool
In this study comprising 8 chapters, UKWIR has developed analysis in a number of areas to support the "Big Question" on how to achieve zero water poverty in 2030. The chapters are: 
Introduction 
Water Poverty in context 
Drivers of water poverty 
Potential metrics of water poverty
Future pressures on water poverty
Approach Toolkit for alleviating water poverty
Recommendations
References
Chapter 6 considers a range of approaches and interventions that could be used to support water poverty alleviation in the UK water sector which are also relevant to other countries. The different categories of alleviating water poverty include: bill reduction/income support; financial management; water efficiency; informational/behavioural change; provider practices; and cross-utility approaches.
Go to website
Reviews
There are no reviews yet.
Be the first to review "Defining Water Poverty and Evaluating Existing Information and Approaches to Reduce Water Poverty "
Add a review
Implementation reports
There are no implementation reports yet.
Add an implementation report
Other tools that could interest you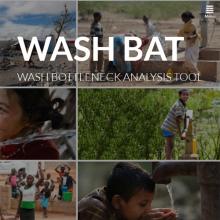 WASH Bottleneck Analysis Tool (WASH BAT)
Year of publication:
2011
WASH BAT has been designed as a sector tool for use by governments and development partners for WASH sector strengthening. It enables a systematic identification of factors (or "bottlenecks") that prevent achievement of sustainable service delivery within national or subnational WASH targets and helps stakeholders to define activities aimed at removing the root causes of these bottlenecks.


Read more
COVID-19 and Water, Sanitation & Hygiene (WASH) Communication Toolkit
Year of publication:
2020
This collection of communications materials serves as way for organizations and individuals to share key policy messages on COVID-19 and WASH through professionally developed graphics and other materials at no cost. The materials are designed to be used online: website, social media, emailing or on any digital platform.
Read more