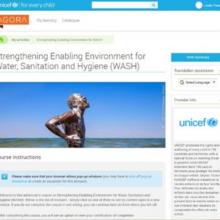 Enabling Environment for WASH e-Learning Course
Year of publication:
2016
This online course is intended to build the capacity of WASH professionals so they can support national governments in improving WASH service delivery. It presents existing approaches, processes, tools, resources, new thinking, and innovative mechanisms for strengthening the EE for WASH service delivery. The course course is open for self-enrollment and can be taken at the learner's own pace.


Read more