In terms of governance, SWA's partners are organized into 6 constituencies, with common interests and roles in the WASH sector. All SWA constituencies are represented on the Steering Committee, which serves as the leadership and decision-making body for the partnership. The Steering Committee creates Work Groups, which are open to all partners, when tasks require specific attention.
The partnership is supported by a Secretariat, led by a Chief Executive Officer (CEO). The core of the Secretariat is hosted by UNICEF in New York, while other strategic Secretariat positions are hosted by partners around the world, including by Global Water Partnership, End Water Poverty, Fresh Water Network (FANSA), the Inter-American Development Bank. 
The Global Leadership Council is a high-level group of appointed SWA leaders who advocate for and mobilize wider political commitment to SWA's Guiding Principles and the aims of the SWA partnership.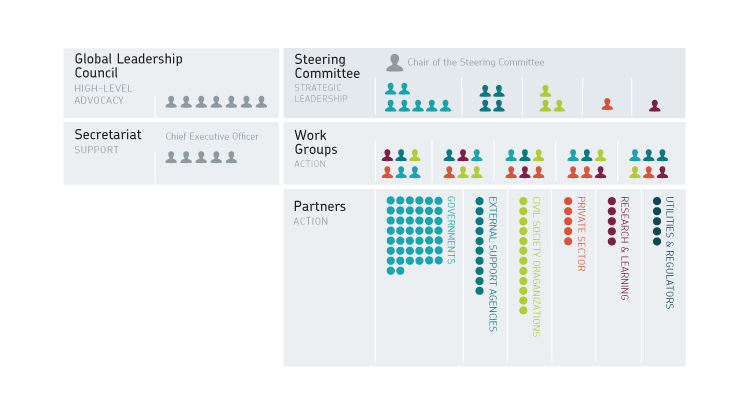 Documents
View all Key documents
| Key documents | Type |
| --- | --- |
| Governance Document - December 2021.pdf | |
| The impact of the SWA partnership around the world  | |
| Regional Roadmap for MENA | |
| Regional Roadmap for Latin America and the Caribbean | |
| Regional Roadmap for Asia | |
| Regional Roadmap for Africa | |
| SWA Regional Roadmaps 2021-2025 | |
| SWA Results Framework | |
| Strategic Framework 2020-2030 | |
| Code of conduct | |
Steering Committee
The Steering Committee is SWA's ultimate decision-making body and is led by a Chair and Vice-Chair.
Work Groups
The Steering Committee creates Work Groups to focus on tasks which require specific attention.
Secretariat
Led by the Chief Executive Officer, the SWA Secretariat supports the Steering Committee and Work Groups.